Methodism in Poulton goes back to the late 18th Century when two lay preachers, based at the Methodist Society in Preston, visited and preached in Preston around the time of John Wesley's death in 1791.  A small Methodist Society began to meet in a room at the rear of the Kings Arms, later the Royal Bank of Scotland.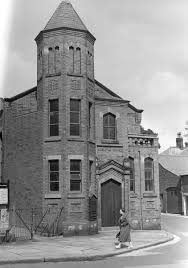 The first chapel was built in Back Street, now Chapel Street, in 1819. About 40 years later a larger chapel was built, followed, in the late 1880's, by another.  A plaque at the corner of Chapel Street and Queens Square records the site of this chapel.  A few members of our current church worshipped in this chapel.
As the population of Poulton grew, especially in the 1950's, the premises in Chapel Street were no longer adequate and it was decided to build a new church on what became Queensway.  It was opened just under 50 years ago in 1965, a very modern building at the time. The architect who designed it was inspired by Poulton's maritime connections; some of its features reflected this – a prow shaped pulpit, copper lanterns and black wood window frames which were a reminder of the timber frames of the old trading ships.
In 2004 the church embarked on a renewal scheme.  Essential repairs were needed, but, more importantly, the aim was to create a flexible, comfortable church more suitable for modern worship and as a base for its mission in Poulton.
Work was completed in late 2008. The new sanctuary captures all that was intended: a modern, spacious, flexible place of worship, and the newly created chapel is special place of quiet.  Focal points have changed.  Modern new furniture has replaced the fixed pews and pulpit and the centre-piece is a wall hanging created by Juliet Hemingray which is full of meaning and reminds us in the final panel that our church is not just a beautiful place but one which must seek in its mission to be fishers of men.
The coffee shop, a focus for outreach, was later included in the plans.